STF Tivedstorp
– the old village hostel in the midst of Tiveden
Tivedstorp is an old village located in a glade in the middle of the forest, surrounded by the beautiful and mysterious nature of Tiveden, "the fairy tale woodland", with meadows, fresh water and crisp air.
Tivedstorp is a hostel, caravan parking, camping and a restaurant. It's a perfect spot for relaxation and recreation, and with the National Park of Tiveden right around the corner you have endless possibilities for outdoor activities.
The complex has 63 beds, a cafe and restaurant, conference facilities, green areas, chapel, barn, assembly halls, sauna, indoor dance floor, outdoor dance floor, volleyball court and more.
Tivedstorp is also rich in culture, as we host a variety of art exhibitions, music events and more.

---
Contact
Address:
Tivedstorp
 695 96 Tived
Telephone:  +46 584 47 20 90
E-mail: boka @tivedstorp.se
---
Hostel
At Tivedstorp you can breathe Tivedens magical atmosphere with wild forests and hilly terrain right around the corner. The location and buildings have an exciting history that dates back to the 17th century, when the Finnish descendant Lille-Hindrik came wandering through the dark forests to burn the woodland. The rooms and cabins of the hostel offer a cozy living in an old-fashioned and rural setting.
As a guest at the hostel you have access to kitchens for self-catering. If you want to relax we serve breakfast, lunch and dinner at kaffestugan, where our guests also have access to wireless internet. Opening hours vary depending on season.

The facilities hold a generous amount of shared premises which serve as natural meeting places. The shared kitchens are well equipped and practically designed so many people can cook at the same time. Outdoors you can find large green areas where you can barbecue and play games, while the sheep walk around in the pastures.
You can either bring your own sheets and towels or rent them from us. You can also choose whether you want to clean up after yourself or if you want to pay a fee for us to do it.
For our horseriding travellers we offer paddocks to leave your equipment and pastures for your horses to stay overnight.
Pets are welcome in all accommodation spaces. Please be considerate with other guests.
The hostel is open from May to October
Check-in from 4 P.M
Check-out before 11 A.M
For package offers and further questions, contact us by telephone: +46 584 47 20 90 or e-mail: boka@tivedstorp.se
Click here to book now, or use the form below:
Accomodations
Johansgården (A) is the largest house at Tivedstorp and holds seven beds divided over three rooms. Kitchen, WC, shower and dining room allow for a complete experience in the middle of Tivedstorp´s surroundings.

Bagaren (B) has two rooms on the upper floor, plus showers and a sauna on the ground floor.
Prästgårdslängan (C) holds 24 beds divided over 8 rooms. Here you can also find our sauna plus a cozy courtyard for barbequing and socializing. From here it's just a few steps to B-kitchen in the house Bagaren, for self-catering. Several rooms have their own shower and WC.
Stallet (F) offers 16 comfortable beds and a large self-catering kitchen suitable for many people. It also has a dining room with a fireplace, an outdoor area with barbecue and pizza oven, and our famous hot tub. In Stallet there are four showers and four WCs.
Johannastugan holds a double bed, a kitchenette and an incredibly charming and romantic atmosphere. Located in the heart of Tivedstorp it makes the perfect place for the couple or the small family.
Hindrikstorp is one of our oldest cabins, which offers a cozy, simple lodging where you can experience a genuine feeling of the past.
For pictures, click here.
---
Restaurant
"Kaffestugan"
Kaffestugan is a restaurant with the newly built Grill House.
We serve a grill buffé almost every night during high season.
 Why not just enjoy a beer in the sun? We arrange dinners and banquets when booked in advance. We can take up to 64 sitting guests for dinner parties. Feel free to contact us for arrangements for your special barbecue/party menu. We have license to serve alcohol.
We also serve breakfast for our guests. If you want breakfast, please inform us when you book or when you arrive. The breakfast is served between 8.00 – 10.00 A.M.
If you would like a picnic to bring for your adventure of the day we also make lunch packages that are easy to carry in your backpack.
If you want to use the internet you have access to free WiFi at Kaffestugan.
---
Opening hours
Reception hours:
Check-in 16.00-18.00
 Check-out 9.00-11.00
Other times according to agreement
Contact us by phone: +46584472090 or email: boka@tivedstorp.se for booking and information.
---
Activities
Hiking
Tivedstorp is the perfect starting point for longer hikes around Bergslagsleden and Kyrkstigen. Stage 16 and 17 of Sweden's famous Bergslagsleden both starts and ends here at Tivedstorp. We also have two forest walks of 2 and 5 km right around the corner and with the beautiful wild nature of Tivedens National Park just 5 km away we can assure you the adventure of a lifetime. Offering over 30m of marked paths, the Tiveden National Park is provides the perfect place to explore the rich nature which Sweden has to offer. Regardless of how far you want to hike, there will be a route to suit what you're looking for.
Biking
Bring your bike and pedal 4 km to Vitsand for sun and swimming on clear white beaches or try some of the other biking trails. Various trails across the area provide a pleasant ride the novice or a serious challenge for the hardened mountain biker. For more information on biking in Tiveden see www.cyklaitiveden.se
Horseriding
Ride on your own or rented horse along Tivedens long riding trails. Horseriding guests who come to Tivedstorp have the perfect opportunity to stay here, leaving their horses in one of our pastures. They are then free to sleep, eat and refresh before embarking on new adventures. Visit https://ridledertiveden.se/ for more information.

Paddling
Rent a canoe and paddle in lake Trehörningen and other beautiful lakes. Contact us for more information.
Animals
Here at Tivedstorp we have both sheep and chickens, along with also often having horses staying in our pastures. We care a lot about old Swedish rural breeds and we chose the race Åsenfår. By being part of a breed and letting the animals stay in as naturally an environment as possible, we help in the work of keeping and preserving these races.
---
The Chapel
The wanderer's chapel at Tivedstorp is being used for services, weddings, christenings and other ceremonies. The chapel holds about 40 people. With the grand bells right outside, wedding ceremonies can be held outdoors in an incredibly beautiful and idyllic atmosphere.

For more information on how the chapel works at wedding ceremonies and christenings, contact us.
---
Tiveden National Park
The National Park of Tiveden is right around the corner, with the most beautiful primeval forests of southern Sweden.
To a large extent the wilds of Tiveden are inaccessible, but also endlessly tempting and inviting. With over 30 km of marked paths, Tivedens National Park is undeniably nature at its most mesmerizing. Vast untouched forests, grand boulders, clear lakes, mythical offering places and views that reach all the way to Vättern, the adventure starts here!
Tivedstorp is the perfect starting point for longer walks around Bergslagsleden and Kyrkstigen. From here you can also ride horses along the 200 km long riding trails across Tiveden.
Why not take a bikeride through the many sights of Tiveden? You can easily access the beach of Vitsand or the red waterlilies of Fagertärn with a bicycle. Whether you just stay overnight or for a longer period of time, Tivedstorp is the perfect choice. Ask us and we'll help you find your way!
To read more on the county administrative board of Örebro's site, click here.
Download PDF fact sheets from the county administrative board of Örebro:
About the national park.
About the Trollkryka-trail.
About the Stenkälla-trail.

---
History
16th century-19th century
: In the late 16th century large areas of Sweden were still wild and unsettled. At the same time there was crop failure, land shortage and uprising in the woods of eastern Finland. The Swedish state saw an opportunity to get more taxes by populating the wilderness and offering the Finns land and tax-free years. This resulted in the cultivation of the remote woodlands which we today call Finngrounds. Tiveden was one of the most southern areas populated by Finns and Tivedstorp was originally a Finnvillage.
In the 17th century Lille-Hindrik Hindriksson came wandering through the forests of Tiveden to cultivate the woodground. Lille-Hindrik slashed and burned the first wood ground here, far away from other populated areas. This lonely settlement made the base for a village which was called "Lilla Hindrikstorp" for a long time. Lille-Hindrik was the first of the Finns who found work here at a charcoal kiln and many others followed. Many of them settled in the beautiful glade which today is known as Tivedstorp.
The growth was slow, where a population register from 1774 states five households, 1829 nine, 1846 fourteen, and in 1870 twenty. It was hard to make a living working in a charcoal kiln and Tiveden quickly became a deserted area. The village now known as Tivedstorp became more and more desolate as a result.
20th century
: Two hundred years later – in the 1950s – Tiveden was like many other rural areas in Sweden, being abandoned with many of the farms remaining empty.
In 1952 the foundation Tivedstorp was created. Sven Danell, bishop of Skara, and many nonprofit organizations created residencies for immigrants whose family providers could find work in forestry.

Farms were bought and made ready to use and in 1954 the first immigrants moved in. In 1956 a Romanian family of three generations consisting of 21 people arrived. People came to visit the small colony in the forest. They modestly asked if it was possible to buy a cup of coffee. Of course! It became popular and in 1959 IM opened a proper coffee place serving by the tree in the cabin of old mother Johanna, today known as the old coffee house. When the Romanian family moved to other jobs in the area in 1961/62 they had grown to 42 people. The foundation discontinued and IM took over the responsibility for the ground and facilities.
Throughout the years Tivedstorp has expanded much from it's original buildings. The handicraft shop was built in 1961, the new coffee house in 1965, the chapel 1968, the stables 1971, the bells 1973, the guest houses in 1975 and the tent places in 1985.
---
Take a look around Tivedstorp!
or have a look a the area map: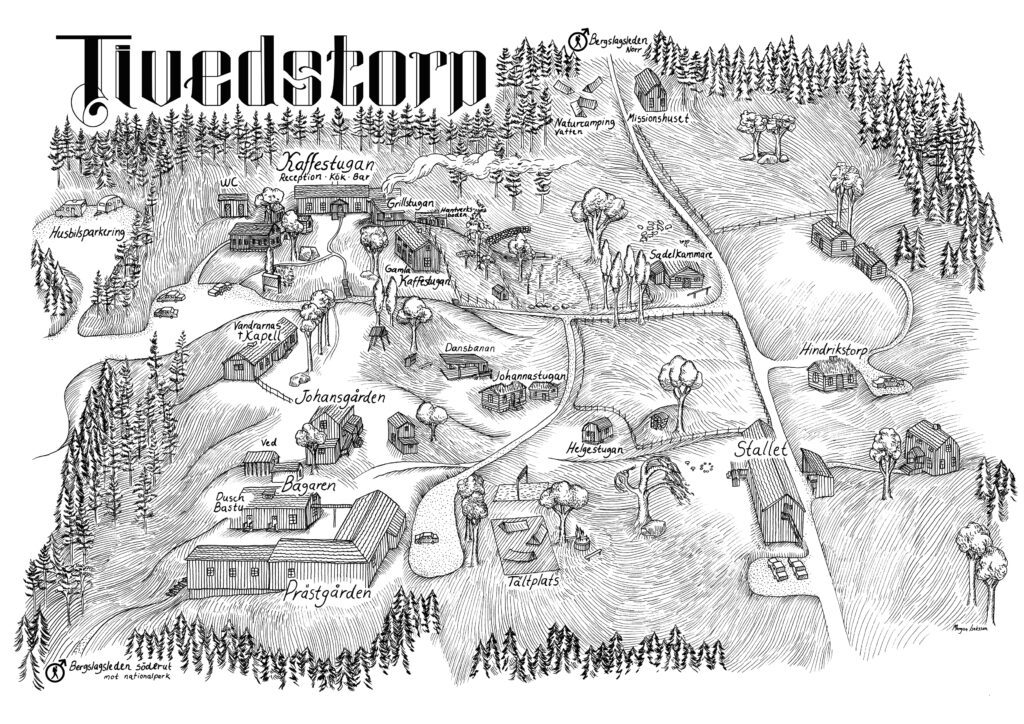 ---
How to find us
By car
Take your car or motorcycle. From E20, exit at Laxå or Finnerödja towards Tived, then follow the signs to the National Park.
From Askersund, go to Laxå, exit towards Tived, follow the signs to the National Park.
From Karlsborg, take road 49 towards Askersund, exit at Bocksjö towards Tived, follow the signs to the National Park, pass through the park.
From Töreboda, go towards Karlsborg, exit at Undenäs towards Tived, follow the signs to the National Park, pass through the park.
By train & bus
The nearest railway station is in Laxå, located at the western junction between Stockholm and Gothenburg. Both regional and commuter trains stop there. Plan your trip at Resplus or Skövdebuss.
Express buses on the bus services Stockholm – Gothenburg, Örebro – Skövde/Uddevalla and Stockholm – Skövde pass through Tiveden on E20 and road 49.
The buses stop at Askersund, Karlsborg and Laxå.
On certain bus lines along road 49 it is possible to jump on or off at closer bus stops, for example Sörhamn, located 10 km south of Tivedstorp.
Hike, Bike & Ride
There are plenty of ways to get to Tivedstorp, and it can be extra exciting and fun if you choose to leave your car.
Hike on Bergslagsleden, which is one of Sweden's longest hiking trails. It is divided in 17 stages which are between 7 and 23 km long. The trail starts at Kloten, which borders to Dalarna, and Tivedstorp represents the last stop (stage 16 and 17) before it ends at Stenkällegården.
Bike after the green marked Sverigeleden and make a detour to Tivedstorp on Tivedsrundan.
The riding trails of Tiveden have fine routes to Tivedstorp – both the rider and the horse can have a break and rest here.
---
GPS-coordinates:
WGS 84: N 58° 45.5000′, E 14° 35.5333′
WGS 84 – decimal: 58.758333°, 14.592222°
RT90: X 6515754, Y 1429799
SWEREF99: N 6513214, E 47640